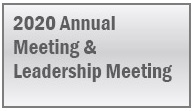 INTA's 2020 Annual Meeting & Leadership Meeting was first scheduled for April 25–29, in Singapore. Due to COVID-19 it had to be rescheduled and also combined as Annual Meeting & Leadership Meeting in Houston for November 16–20.
Now the INTA`s Board of Directors approved holding an all-virtual Annual Meeting & Leadership Meeting. With this approach, the Annual Meeting will remain November 16–20. Committee meetings will be during the prior week on November 11–12, and Leadership Meeting sessions on November 13.
The registration will open in early July. The sessions will be presented live, simulated-live, and on-demand with high-quality content and CLE/CPD options as well as multiple networking opportunities.
Furthermore, the organisation team plans to organise a virtual Exhibit Hall which will enable service providers and registrants to connect and converse.
This way the International Trademark Association is trying to keep its community safe.
Wishing them good luck in that innovative undertaking!
About the meetings
INTA Annual Meeting is the world's largest gathering of brand owners and intellectual property professionals.
INTA Leadership Meeting is for the organization's members who are in leadership positions or sit on committees, advisory councils, and project teams. It is conducted once a year with the aim to advance the Association's objectives and goals.