At the beginning of the month the united team of IP Consulting, realized that soon the team expect new, young and loud team members.
At the end of July, we noticed that our cozy window is visiting daily from a little bird with gray – orange feathers. In the first week we decided that the most likely, the bird just like the sight of our office. In the second week, every time someone in the office noticed the guest on the window, appears clash of enthusiastic people who watch the little splash of color. According to our clients jokes, the bird came to visit us, just because it wants to understand how to obtain protection of its unique feathers, but soon it turned out that the truth is much simpler.
During one very sunny day, we decided it was about time to break away from the work and take care of our beautiful flowers of the same window from which the bird was watching us. Then we noticed that between the window and one of our many pots appeared small, comfortable nest in which there were four small striped eggs.
The pretty little bird chose our window to raise its generation.
From this day forward, we are all exited for the expected young generation and try not to bother the mother while she takes care of her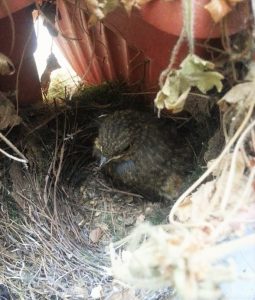 unhatched generation. After a brief check, we realized that our team expects new signings by representatives of the family of Robins birds.
In one wonderful day of August while we were peeking to see how our colleagues develop, we witnessed the unfurling of the first shell. The immature birds were smaller than a walnut and with pure black feathers.
Every day we watched how the mother landed on our window, but this time, always with a beak full of "candies" for  the children. The small birds grew with each passing day and daily vocalize our office. One day at the office, one of our fellow collegues made its first flight and managed to fly for two meters. Then sat at the office and all day watched the workflow. Small birds were ready to become full members of our team.
If you want to enjoy the song of several small Robins birds, you are welcome to our office.