IP Consulting Ltd. filed a case before Sofia City Administrative Court on behalf of its client Dimitar Madzharov 2 Ltd.
The case is an appeal against a decision of the Bulgarian Patent Office which rejects request for cancellation of a trademark with reg. № 94404 – SHEEP'S CHEESE KASHKAVAL BULGARIAN KASHKAVAL MADE IN BULGARIA – combined, due to descriptiveness.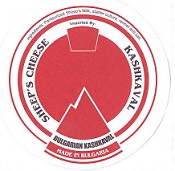 According to the appellant the trademark is not distinctive. It contains signs and symbols indicating the type, quality, quantity, destination, geographical origin of the goods. Furthermore, the trademark may confuse consumers insofar whether the goods in respect of which it is registered are in Class 29 – meat, fish, poultry, game, meat extracts, canned, frozen, dried, cooked and baked fruits and vegetables, jellies, jams and compotes, eggs.
According to the court, trademark with reg. № 94404 is descriptive regarding the goods in Class 29 "dairy products, cheese, yellow cheese, sheep cheese, sheep yellow cheese" as it prominently indicates goods of the type cheese and yellow cheese.
These goods do not appear in the registered goods of the trade mark with рег. 94404. The court finds that there was a likelihood of confusion of the average consumer with regard to process goods.
The court concluded that the appeal of IP Consulting Ltd. is well founded and the contested decision is incorrect. The assessment executed by the Bulgarian Patent Office of the likelihood of consumers confusion is incorrect.
The court rules the costs of the case to be paid in full by the Bulgarian Patent Office.
IP Consulitng –  European Trade Mark Attorneys, European Design Attorneys, European Patent Attorneys and lawyers – helping clients in protecting their IP Rights and registering European trade marks and European designs.
For more information visit www.ipconsulitng.eu – about us section.