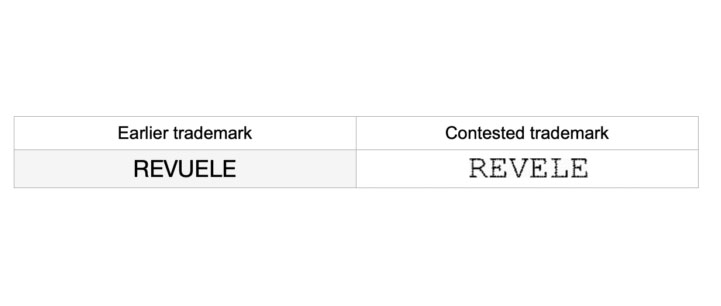 THE CASE 
The company LIFY COSMETICS JSC filed on July 22, 2021, the application for registration No 4787286 relating to the trademark REVELE (word trademark in France).
REVUELE Ltd., Bulgaria, a client of IP Consulting Ltd., filed an Opposition against all the goods and services in Class 3 of the said trademark before the National Institute of Industrial Property of France (UAIPIT).
The Opposition is based on inter alia, European Union trademark registration No 013689856 (word trademark).
GOODS AND SERVICES 
The earlier mark is registered for the following goods/services:
3. Depilatory creams; Medical toothpastes; Preparations for cleaning dentures; Tooth polish; Dentifrices; Dental bleaching gels; Mouthwashes, not for medical purposes; Denture polishes; Laundry preparations; Commercial laundry detergents; Laundry detergents for household cleaning use; Bleaching preparations; Carpet cleaning preparations; Shoe cleaners [preparations];  Window cleaners in spray form.
5. Pharmaceutical creams; Spermicidal creams; Night creams [medicated]; Orgasm creams; Creams (Medicated -) for the feet; Medicated skin creams; Dental preparations and articles; Nutritional supplements; Medicated food supplements; Food for diabetics; Antiseptic cleansers.
35. Business analysis, research, and information services; Advertising, marketing, and promotional services; Commercial trading and consumer information services; Business management; Negotiation of commercial transactions for performing artists; Business management organization; Business management supervision; Mediation and conclusion of commercial transactions for others.
The contested mark is applied for the following goods/services:
3. hair cosmetics; hair lotions. 
Consequently, the goods and services of the application for registration appear similar to the goods/services invoked by the earlier mark.
THE SIGNS 

Visually, the contested name REVELE and the earlier mark REVUELE are of comparable length (six letters for the contested sign, seven for the earlier mark) and have six letters in common (R, E, V, E, L, and E), placed in the same order and forming the same repetition of the REV-ELE attack and end sequences.
Phonetically, they have the same onset [rév] and final [èle] sounds.
Semantically, nothing allows the filing legal entity to affirm the contested application "has a clear and determined meaning", that the consumer will perceive the contested sign as "the conjugated form of the verb to reveal".
LIKELIHOOD OF CONFUSION
The overall assessment of the likelihood of confusion implies a certain interdependence of the factors taken into account and in particular the similarity of the trademarks and the similarity of the goods or services designated; thus, a low degree of similarity between the designated goods and services may be offset by a high degree of similarity between the marks, and vice versa.
Thus, the relevant public to be taken into consideration in the assessment of the likelihood of confusion is the average attention public.
In the present case, due to the similarity of the goods in question and the similarity of the signs, there is overall a likelihood of confusion in the mind of the public.
CONCLUSION
Taking into account everything said above, the National Institute of Industrial Property of France (UAIPIT) confirms the opposition is well-founded based on the opponent's EUTM registration No 013689856.