The Patent Office of the Republic of Bulgaria confirmed the opposition against the registration of "Диклофлекс Dicloflex" trademark № 153146. The opposition was filed by the proprietor of an earlier EU trade mark № 011755717 'Diflex', represented by IPConsulting.
The opponent has filed the opposition against all the goods and services claimed. Evidence is provided regarding the likelihood of confusion due to the similarity between the trade mark applied for and the earlier EU trade mark.
The Patent Office confirms that there is an earlier right within the meaning of Art. 12, para. 2, item 7 of the Law on trademarks and geographical indications. Regarding the use of the earlier trademark, the evidence provided allows it to be concluded that the use is genuine and effective, allowing the creation and maintenance of market share in the sector.
Identity / similarity of goods and services
Relevant factors when comparing goods and / or services are their nature, purpose, the fact whether they are complementary or interchangeable, etc. The services 'retail and wholesale of pharmaceutical, veterinary, sanitary and medical preparations' in Class 35 of the contested trade mark are similar to the goods 'pharmaceutical ointments' in Class 5 of the earlier EU trade mark.
Identity / similarity between the signs of the conflicting trademarks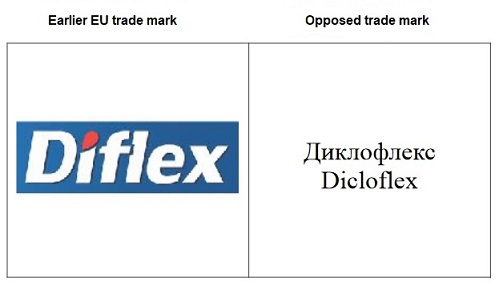 The opposed trade mark is a word trade mark and consists exclusively of the word elements 'Диклофлекс Dicloflex', written in Cyrillic and Latin. The earlier EU trademark is combined and includes the Latin word element "Diflex". There is a phonetic similarity between the trademarks to a degree that is higher than the average.
The distinctiveness of the trademark in question is due to the integrity of the word element "Диклофлекс Dicloflex". The earlier EU trade mark is dominated by the word Diflex. It is a distinctive element as it does not correspond directly to any characteristics of the goods for which it is intended. The word Diflex, which is the only word element in the earlier EU trade mark, is in fact fully incorporated into the opposed trade mark.
Likelihood of confusion
Likelihood of consumer confusion involves creating a misconception about the manufacturer or trader of the goods and / or services. That is the risk consumers to believe the goods and / or services belong to the same or economically related undertakings.
The Opposition division concluded that, as a result of the similarity between the compared trademarks and the identity and similarity between the goods and services, there is a likelihood of consumer confusion, including the possibility of relating to the earlier EU trade mark.
On the basis of the analysis carried out, the registration of Dicloflex trademark is rejected for all goods in Class 5 and most of the goods and services in Classes 3 and 35.
IP Consulitng –  European Trade Mark Attorneys, European Design Attorneys, European Patent Attorneys and lawyers – helping clients in protecting their IP Rights and registering European trade marks and European designs.
For more information visit 

www.ipconsulitng.eu

 – about us section.