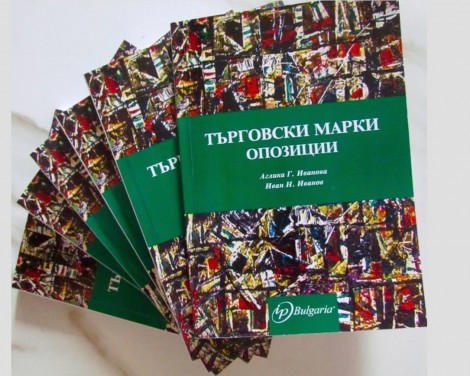 The post "Trademarks – oppositions"- bottlenecks in opposition proceedings appeared first on IP Bulgaria
We talke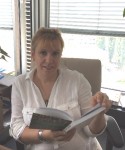 d about the new book of publishing house IPbulgaria "Trademarks – oppositions", by the authors att. Aglika Ivanova and Ivan Ivanov, with Mrs. Iveta Borisova – Chairman of the Bulgarian National Group of AIPPI (International Association for the Protection of Intellectual Property); Representative of Bulgaria in the Commission on "Intellectual Property" at ICC; Legal Adviser at the Intellectual Property Directorate of "Sopharma" AD.
Mrs. Borisova is Master of Law from the University of National and World Economy; Master in European Studies from Sofia University "St. Kliment Ohridski" BA in Economics, majoring in "Finance" at UNWE. Secondary education was completed in Gentofte school – Copenhagen, Denmark.
She has acquired her professional qualification at Technical University,. Sofia – "Patent Law" and "Intellectual Property Rights" at the Institute for Postgraduate Studies at UNWE.
She speaks Danish, English, Spanish.
Do you think the book's topic is useful?
I find the topic very helpful. Oppositions are part of the practice of the opposition system for registration of trademarks, which in terms of a European brand exist since 1996 and was introduced in Bulgaria in 2011.  Specialized literature on this topic relatively new for our country, is quite not enough. I therefore welcome the authors of this work, which fill the "vacuum" on "opposition" theme among Bulgarian experts in the field.
The book has been developed and presented with much mastery and professional competence including in educational aspect, which makes it suitable for students in the "Intellectual Property" subject, and a tabletop book (manual) in practice of each beginner in our profession.
What do you like about it?
I like the clearly expressed personal attitude of the authors on the topic and how it is structured. There is a synthesis of theory and practice, where many "bottlenecks" in opposition procedures under national and supranational order find place, presented in accessible and grounded manner.
First of all, the specifics of "opposition system for registration of trademarks" (Chapter I) are examined, and then consecutively the two procedures for registration of trademarks with effect on the territory of Bulgaria are presented: "Opposition during the registration of a mark at the Office for Harmonization in the Internal Market "(Chapter II) and" Opposition during trademark registration before Bulgarian Patent Office "(Chapter III). Finally, Chapter IV "Case Studies" presents what is most interesting and is never enough in our educational practice.
The critical analysis of each of the procedures under Chapters II and III is supported by statistics and is very useful as far as it informs the readers about specifics on which it is important to draw the attention of practitioners.
Who would you recommend it to?
To each student who has chosen to be realized in the field of intellectual property, as well as any colleague – a patent specialist, lawyer, patent attorney, who is fluent in the matter but there is always more to learn and further refine. Last but not least – to the lecturers in the "Intellectual Property" discipline, for who the measure of success is the successful realization of their students.
Would you share examples or comments from your experience on the subject? 
The examples are a lot, given the pharmaceutical field "rich" of IP-practice in which I am a practitioner. To share them, however, it is necessary to prepare a whole book, as the one written by you, but this is very serious and responsible work. I am still not ready for it and I am greeting you!
" Trademarks – oppositions " a book about oppositions by publishing house IPBulgaria.