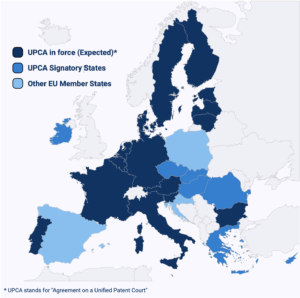 The unified patent court (UPC) and unitary patent (UP) legislation is scheduled to enter into force on 1 June 2023, with the 3-month sunrise period ending  on 1 June 2023.
The new legislation will have several consequences both for proprietors who have European patents and applicants who are pursuing European applications.  The overall goal is to avoid multiple and contradictory litigation in Europe, reduce litigation costs on a large scale. The UPC will be able to judge the infringement and the validity of patents with unitary effect or European patents in a single legal action.
The UPC agreement will apply to unitary patents and European patent applications pending at the date of entry into force of the agreement, and to granted European patents which have not lapsed at the date of entry into force of the agreement.
A granted European patent will fall within the jurisdiction of the unified patent court unless the patent is opted out.
European patents (without unitary effect) may waive the jurisdiction of the JUB (Opt-Out) for at least 7 years during the transitional period.
An opt out can declared any time during the sunrise period (by 1 June 2023) or transitional period.
According to Article 83(3) of the Agreement on a Unified Patent Court (UPCA), applicants for and proprietors of a "classic" European patent, as well as holders of a supplementary protection certificate (SPC) issued for a product protected by a "classic" European patent, can opt out their application, patent or SPC from the exclusive competence of the Court. As a result, the UPC will have no jurisdiction concerning any litigation related to this application, patent or SPC.
Please note that it is not possible to opt out a Unitary Patent from the UPC's competence.
The following conditions must be met for a valid opt-out:
•      The opt-out can only be made in respect of all states for which the European patent has been granted or which have been designated in the application.
•       An opt-out is only possible as long as no action has been brought before the UPC in respect of this application, patent or SPC. 
The opt out of the jurisdiction of the UPC is effective for the whole patent lifetime. An opt out can be withdrawn, but no further opt out can be filed following an opt out withdrawal. 
EPO contracting states party to the UPC agreement
Austria, Belgium, Bulgaria, Denmark, Estonia, Finland, France, Germany, Italy, Latvia, Lithuania, Luxembourg, Malta, Netherlands, Portugal, Slovenia and Sweden.
EPO contracting states not party to the UPC agreement
Albania, Croatia, Cyprus, Czech Republic, Greece, Hungary, Ireland, Iceland, Latvia, Liechtenstein, Monaco, Montenegro, North Macedonia, Norway, Poland, Romania, San Marino, Serbia, Slovakia, Spain, Switzerland, Turkey and United Kingdom
The overall advantages and disadvantages are:
Advantages:
Significant cost reduction for litigation at European Union level
Reliability and consistency of decisions
Disadvantages:
In case of cancellation, the patent is void for all participating states
Impossibility of adapting the patent to local situations
Picture: unified-patent-court.org